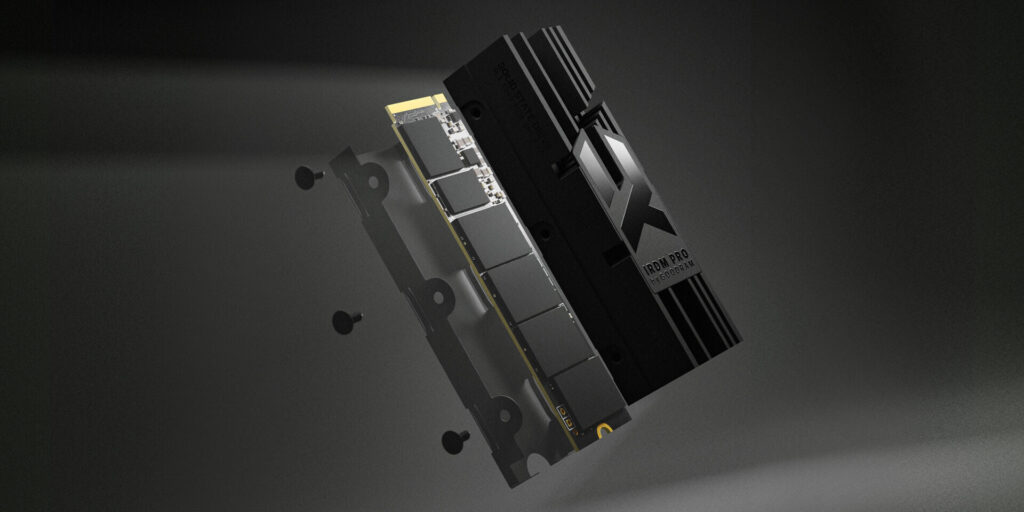 Testing: Goodram IRDM PRO M.2 SSD
GOODRAM IRDM PRO M.2 SSD
Assen, 11 oktober 2022 – Mathijs: Thanks to Goodram I got to test their new SSD, Goodram IRDM Pro SSD, PCIe 4×4, 2 TB, M.2 2280, NVMe 1.4, RETAIL, 7000/6850 MB/s 650k/700k IOPS, DRAM buffer, Phison E18, 3D TLC, Heatsink
As a video editor I always need a lot of storage. I record mainly in 4K ProRes 422 with multiple cameras, so this is a lot of data. For me, the absolute speed is important, but I also need very consistent performance, when 6 cameras stream from one disk for a longer time weaker disks fall short. Because time is always limited, I just tested everything in my editing system. During al my testing I never had one hiccup.
Of course, I also ran some benchmarks and was very impressed. This was in a live system. I got 6980 MB/s on read and 3923 MB/s on write. Compared to their last generation (3411/1072) this is a huge improvement. To do some more testing I copied a few files from my camera to the disk. These where all 400 GB files. The speed is limited by the external SSD, but not once did the transfer drop speed. When I tried to copy from my main drive (3rd gen M.2) to this drive I also got the full speed from the read disk.  Very impressive. This transfer also did not dip in speed. My last test was editing a 7-camera movie (it is over here; https://youtu.be/zS8clXDHSgs). This also worked without issues with all the files on one disk. In the past I had to spread it out to multiple SSD to get it to work.
Mathijs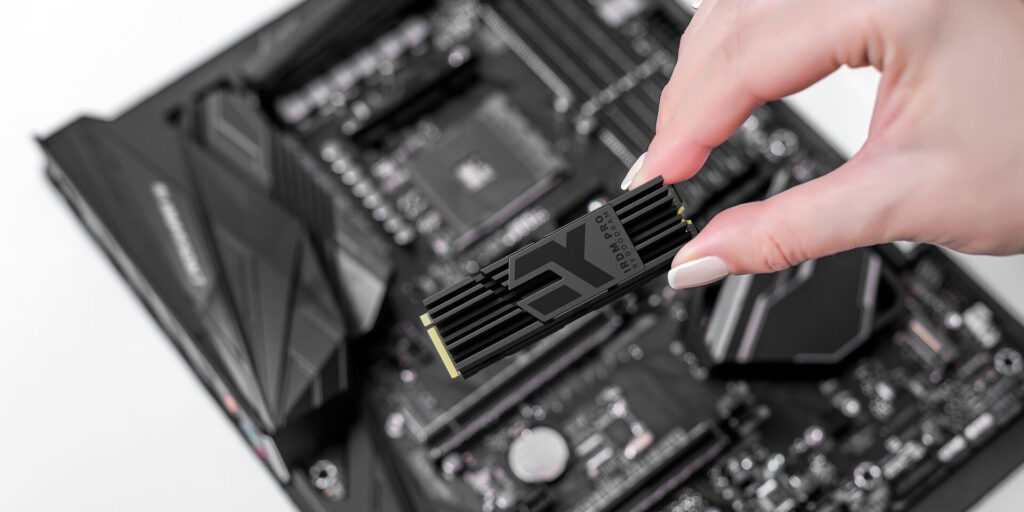 Prestaties zonder compromis
Het nieuwste IRDM PRO M.2 SSD-opslagapparaat is uitgerust met een extreem snelle PCIe 4 x4 NVMe-interface. Maximale lees- en schrijfsnelheden van respectievelijk 7000 MB/s en 6850 MB/s zorgen voor uitstekende prestaties en stabiliteit. Het uitrusten van een desktop- of laptopcomputer met een IRDM PRO-schijf garandeert een soepele en comfortabele bediening onder de meest veeleisende omstandigheden, zoals het werken met 3D-modellering en animatie of het renderen van afbeeldingen. Een andere mogelijkheid die IRDM SSD biedt, is het vergroten van de opslagruimte op consoles van de negende generatie die SSD's met M.2 2280-vormfactor ondersteunen.
Unieke heatsink
Ingenieurs en ontwikkelaars die aan de IRDM PRO SSD werkten, concentreerden zich niet alleen op technische prestaties, maar ook op het ontwerp. De heatsink die matte en glanzende elementen combineert ziet er massief uit en benadrukt verder de hoge kwaliteit van het hele apparaat. Door het zwarte kleurenschema te behouden, verwijst het naar andere producten van de IRDM-lijn, en het hele ontwerp behoudt een moderne retrostijl, geïnspireerd op de elektronica van de jaren 80.
Hoge performantie
De heatsink is gemaakt van aluminium, dat de warmte perfect geleidt, en de extra gaten en uitsparingen die ook nog eens goed passen bij het merklogo, zorgen voor een vrije en gelijkmatige luchtstroom. Eenmaal geïnstalleerd, garandeert de heatsink hoge prestaties van de schijf, zelfs onder extreme bedrijfsomstandigheden, zoals bewezen in laboratoriumtests – de uptime van SSD bij de hoogste snelheid neemt tot 60% toe in vergelijking met gebruik zonder enige vorm van warmteafvoertool. De hoogte van de heatsink is geoptimaliseerd om zo klein mogelijk en toch zo efficiënt mogelijk te zijn.
Garantie en technische ondersteuning
Het product wordt gedekt door een fabrieksgarantie van 5 jaar beperkt door TBW* en wordt geleverd met technische ondersteuning. Gedetailleerde tests en selectie van componenten maakten het mogelijk om een efficiënte en duurzame SSD te creëren.